The World's Next Elite Growth Marketer…
...might already be on your team.
Mint Academy is a 16-week bootcamp that trains your employees to become elite Growth Marketers.
At the end of the course, they will be adept at the following:
Ads:
Facebook

Twitter

TikTok

Google

Snapchat

Reddit

Analytics:

Mixpanel

Hotjar

Google Analytics

Cluvio

Content/E-Commerce: Consumer Psychology

Growth Metrics

Funnel Theory

Media Buying

Auction Theory

Content/Copywriting

Landing Page Design

Conversion Rate Optimization

Marketing Statistics

A/B Testing
Web:
HTML

CSS

Javascript

Server Architecture
Analytics:
SQL/PostgreSQL

Advanced Excel
Coding:
Testing:
Over 70% of Employers Say They Struggle to Find Good Marketers
If you're looking for a top Growth Marketer, you probably need someone who:
Has experience writing SQL queries and finding insights from data.


Can manage a large paid media budget across many different channels.


Scrappily spends their budget to maximize RoAS (Return on Ad Spend)



Understands how to reach your users across multiple channels like email, notifications, or paid media.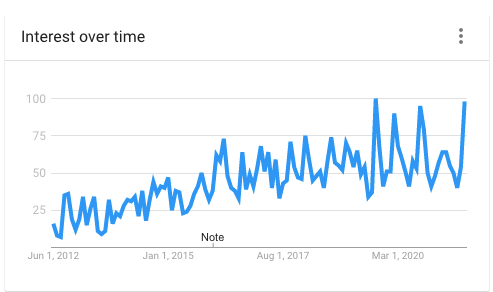 If so, join the club. The graph above shows interest in Growth Marketing over time (source: Google Trends).

People with the above skillset are hot commodity; they're a modern-day unicorn of tech, much like developers were a decade ago.

Common Mistake: Hiring Based on Google/Facebook Ad Dollars Spent
One of the most common mistakes is to hire based on total dollars spent on Facebook or Google, i.e. hiring a media buyer and not a growth marketer.
Once upon a time this might have been a decent strategy.
If "Media Buying" is like playing checkers, Growth Marketing is like playing chess.
Then iOS 14.5 came out, and Apple changed the game for the ad industry by making it harder to advertise on single channels like Facebook due to issues around attribution.

Google is also following in Apple's footsteps and eliminating third party cookies by the end of 2023.

What this means is it's no longer adequate for marketers to simply know one or two platforms.
Growth Marketing Bootcamp
In sixteen weeks, we'll cover all aspects of acquiring, engaging, retaining, and monetizing users.
Time Commitment: 16 weeks, 8-15 hours/week commitment (fitted to existing skill level, workload, and project overlap).
Classroom Structure: Cohort of up to 12 people.
Curriculum:
50% technical/quantitative, 50% creative.

Combination of lectures and projects/lab.

Lectures are 2-3 hours in the evening and recorded.
Relevant work (i.e. company projects) can sometimes be substituted for our curriculum projects if similar enough (with instructor approval).
1 major capstone project.

By the end of the bootcamp, below is an example of what a Mint Academy graduates will be able to do.
Example Case Study: MintPiggyBank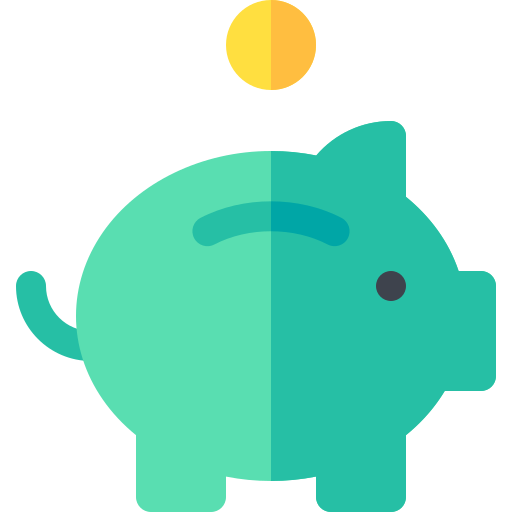 MintPiggyBank is an app that allows users to save their cryptocurrency into a "piggy bank," and access it after a certain date.
The app is struggling to hit profitability. Its cheapest acquisition channel is TikTok, but those users don't stick around for very long.
John is a Mint Academy graduate. Equipped with his new-found skills, he does the following.
Looks at each acquisition channel (TikTok, Facebook, Snapchat, and Pinterest) and measures their corresponding CAC, activation rate, conversion rate, and LTV.


Discovers that Facebook has a high LTV but low conversion rate.


Brainstorms various angles and creates landing pages. One in particular starts working–"If you had put $1000 into Doge coin in 2015 and left it alone for 2 years, you'd be rich by now."


Combines this landing page with Facebook ads, which yields higher conversion while maintaining LTV.


Writes SQL queries to find common characteristics of "sticky" users and discovers those who stick tend to be older and less privacy oriented.


Hypothesizes that churn occurs because current messaging does not address user concerns around giving MintPiggyBank access to their crypto wallets.



Creates and A/B tests a series of drip emails and A/B tests notifications with message around privacy to re-activate users.
The end result is lift across all acquisition channels and eventual profitability. 🎉
"Not only did Dick Talens (course instructor) teach me how to setup a killer Facebook ad campaign, but he also helped me earn more profit in 8 weeks than the cost of the course! He really knows his stuff and I can't recommend him enough."
Founder and Owner, Pigeon Forge Snow
Digital Marketers vs. Growth Marketers

How Digital Marketers Think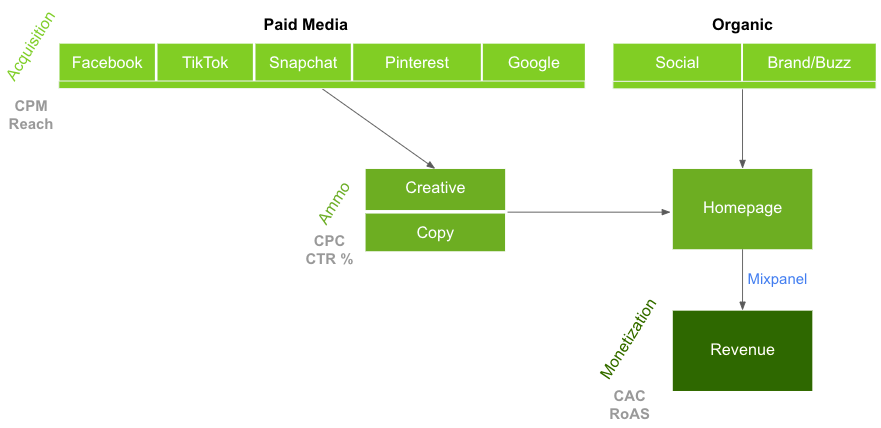 Garden-variety Digital Marketers tend to be very good with 1-2 platforms.
They understand many platform-specific nuances and can create campaigns that optimize for vanity metrics (CPM, Reach, CPC, CTR %, etc.)
The problem occurs when things don't work (e.g. CAC is no longer profitable) or they need to expand to new audiences.
Most will be stalled by the lack of creative assets, landing pages, engineering resources, and inexperience with new channels.
In fact, 80% of companies that we interviewed have said that their marketers struggle when engineering/design resources are limited or ads start performing poorly.
How Growth Marketers Think
Growth Marketers, on the other hand, are never stalled.
They can identify any problems that arise and correct them--all without requiring additional resources from engineering or design teams.
They can scale paid media profitably until bumping up against actual real-world limits.
When audience limits occur, they can identify, tweak messaging, and acquire new ones.
Their technical prowess in (e.g. SQL, Python) allow them to find advanced insights and deploy guerilla tactics, all without additional engineering resources.
Most importantly, they have all the tools that they need. This means that if results underperform, the responsibility is squarely on them to fix them.
"Dick, Mike, and Troy changed the entire way that we do business. They scaled our e-commerce to a point that we never imagined...we're actually looking for a new space to accommodate all of our sales volume."
Founder and CEO, Paleo Bakehouse
Location:
The bootcamp will be held 100% virtually via remote platforms like Zoom.
Dates/Schedule:
The course is about 16 weeks and runs from May 31st to September 19th.
Lectures - Monday and Friday

Tech Labs - Wednesday

Office Hours - Tuesday/Thursday/Saturday
Students can complete labs and projects on their own time.
Total Spots:
There are 6 total spots available for companies.

There's an old saying: "Those who can, do; those who can't, teach."
You won't find that from any instructors at Mint. Our instructors have started, scaled, and sold several notable companies.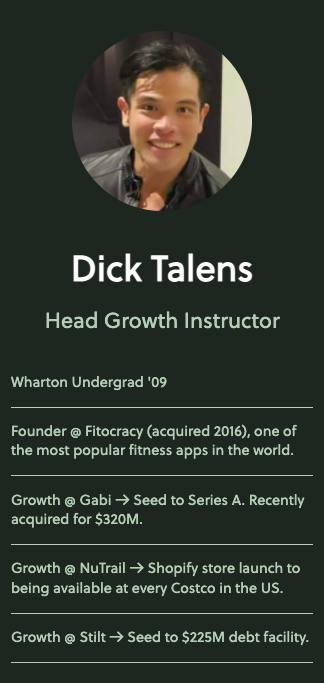 Join Mint's Growth Bootcamp
Our bootcamp has a total of 6 spots available for companies.
Interested in leveling up your marketers? Fill out the form below to get in touch.
Mint comes with a money-back guarantee for all students who graduate from our course.
If you do not see an improvement in your marketers' results and value greater than the cost of the course, we'll provide you a full refund.
Apply to Mint's Growth Bootcamp
What Kinds of Companies Will Benefit
Companies will benefit most if they already have marketing teams in place and spend (or want to start spending) >$1k/day on paid media.
Our graduates have the fundamentals they need to solve all problems in acquisition, retention, engagement, or monetization for any industry, including:


Scale sales profitably worldwide. Focus on your return on ad spend and unlock new audiences as well as more meaningful metrics like LTV.
Learn to get downloads worldwide at lowest costs using emerging platforms like TikTok. Optimize ads for your most valuable or retained users.
Acquire new patients in the geographical area for clients for your practice. This can be highly profitable, as most lawyers, dentists, doctors, etc., are still behind on the curve.
Find highly qualified users that meet your required financial criteria, such as income or credit score.



Target real decision makers (e.g. VP Marketing) through advanced pixel setup. Use automation on LinkedIn rather than paying high CPMs.
Sell tickets or get new visitors to your property. Use advanced metrics to measure and improve tangible results.
Master the advanced funnel, multi-channel, and retargeting skills that are needed to get customers for high-priced goods and services.
Acquire the most valuable, highly engaged users to join your platform or community at scale. Get users who will perform the actions you want.